Links between microbes and insecticide resistance in mosquito populations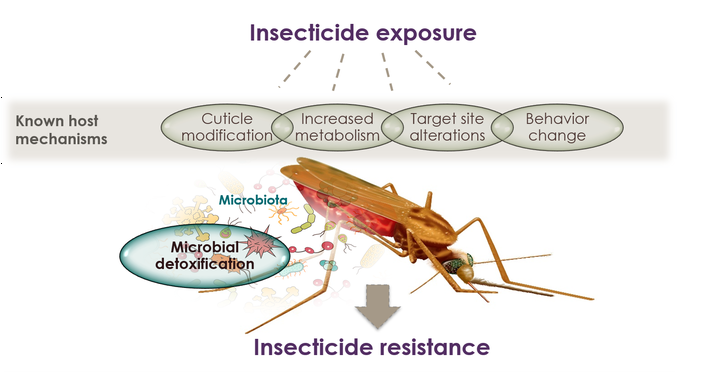 Overview
It is no coincidence that the stall in malaria control progress over the past half decade overlaps with the scale up of insecticide-based malaria vector control tools, and the increasing prevalence and intensity of insecticide resistance in malaria mosquito populations. A better understanding of the mechanisms underlying insecticide resistance is thus needed to mitigate its threat to malaria control. So far, insecticide resistance research has focused on mosquito biology, behavior, and genetics. But mosquitoes, like all other living organisms, harbor microbes that influence their biology, behavior, and genetics.
Where we've worked so far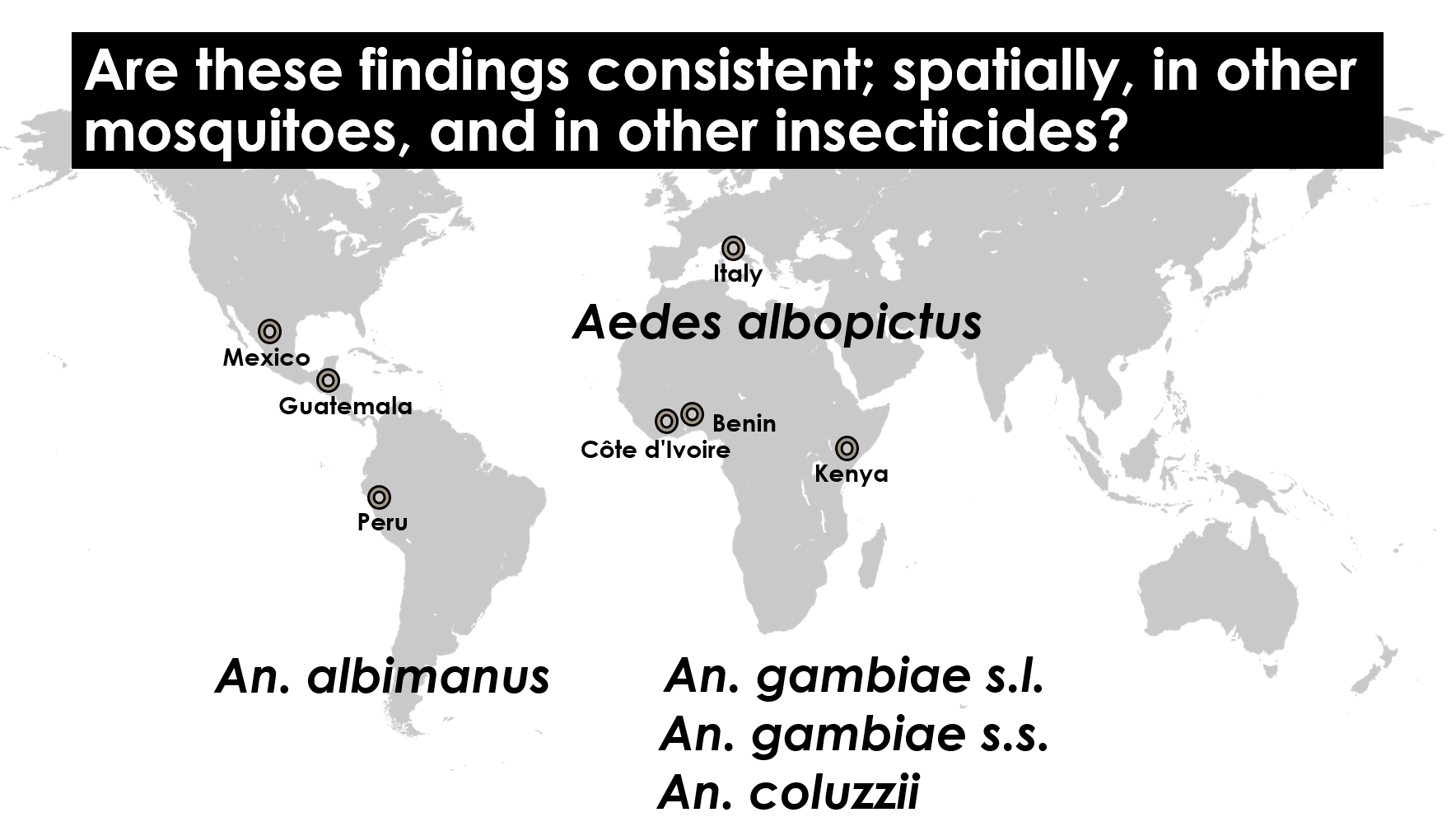 We hypothesized that the mosquito microbiome could be contributing to resistance following evidence in agricultural pest insects. Focusing on malaria vectors across Latin America and Sub-Saharan Africa; including Anopheles albimanus, An. gambiae s.s. and An. coluzzii, we studied how insecticide exposure; and resistance phenotypes, intensity, and genotype (kdr mutations), affect mosquito microbiota composition. Across all locations, Anopheles species, and insecticides considered, results consistently show significant mosquito microbiota alterations due to all factors tested except kdr mutations, which was fixed in the population studied regardless of insecticide resistance phenotype. Results also show specific microbes and putative microbial functions associated with either insecticide resistance or susceptibility. Of particular note are significantly higher abundance of Serratia in susceptible mosquitoes regardless of Anopheles species, location or insecticide class; and Lysinibacillus in pyrethroid resistant mosquitoes regardless of Anopheles species or location. Serratia is a known insect pathogen, and its pathogenicity could compromise the host's ability to withstand insecticide exposure. Similarly, the pyrethroid-degrading ability of Lysinibacillus may contribute to resistance.
The figure below provides a summary of what we know so far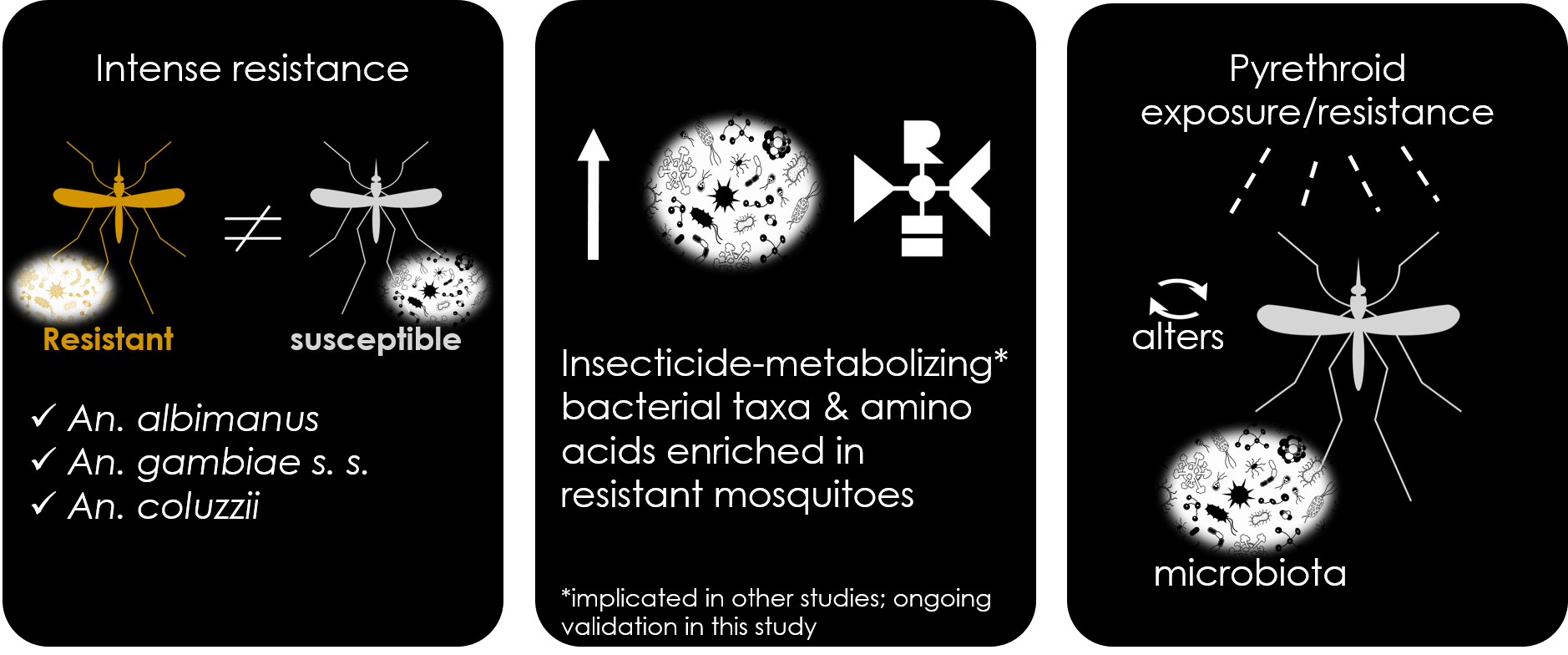 Furthermore, alteration of microbial composition due to insecticide exposure is suggestive of selection pressure on the mosquito microbiome that likely favors the resistance phenotype. Conversely, the identification of pathogenic microbial taxa in susceptible mosquitoes suggests a cause of insecticide susceptibility. Together, these findings suggest an underlying microbial mechanism of insecticide resistance. The lack of association between host insecticide genotype and microbial composition suggests that this microbial mechanism is likely of a metabolic nature that may not be related to known resistance-associated host genetics. Further work is being conducted to elucidate this microbial mechanism of insecticide resistance.
Please see below for publications associated with this project.
Collaborators/Partners
Kenya
Diana Omoke (KEMRI & KU)
Ezekiel Mugendi Njeru (KU)
Mathew Kipsum (KEMRI)
Samson Otieno (KEMRI)
Edward Esalimba (KEMRI)
Eric Ochomo (KEMRI)
Mexico
Pablo Manrique-Saide (UADY)
Azael Che-Mendoza (UADY)
Sergio Dzib Florez (UADY)
Lucio Ariel Alcocer Coronado (SSY)
Leonardo Daniel Ku Caamal (SSY)
Gilberto Castillo Chi (SSY)
Peru (Instituto Nacional de Salud)
Benin (Tropical Infectious Diseases Research Centre)
Wassiyath Agnikè Mousse
Luc Djogbénou
Cote d'Ivoire (Centre Suisse de Recherches Scientifiques)
UK (London School of Hygiene and Tropical Medicine)
Bethanie Pelloquin
Louisa Messenger
Italy (Sapienza University of Rome)
Verena Pichler
Beniamino Caputo
Guatemala
Norma Padilla (UVG)
Juan Carlos Lol (UVG)
Daniela Da'Costa (UVG)
Ana Christina Benedict (UVG)
Fransisco Lopez (UVG)
Pedro Peralta (UVG)
Adel Mejia (UVG)
Alfonso Salam (UVG)
Nelson Jimenez (MSPAS)
Ricardo Valle (MSPAS)
Ricardo Santos (MSPAS)
USA (CDC)
Audrey Lenhart
Kelly Liebman
Nicole Dzuris
Mili Sheth
Core Facility
Scientific Computing team
Entomology branch
Insecticide Resistance & Vector Control Team


Funding and support